FEATURED NEWS
2018 | 2017 | 2016 | 2015 | 2014 | 2013 | 2012 | 2011 | 2010 | 2009 | 2008 | 2007 | 2006 | 2005
---
14 April, 2018
State Minister of Education Visits CUHK
Mr. Chen Baosheng, State Minister of Education, led an eight-member delegation, comprising head officials of Department of International Cooperation and Exchanges, Department of Basic Education, Department of Social Sciences, and Office of Hong Kong, Macao and Taiwan Affairs to visit The Chinese University of Hong Kong (CUHK) on 14 April.
The delegation received a warm welcome from CUHK's senior management, including Vice-Chancellor Prof. Rocky Tuan, Provost Prof. Benjamin Wah, the five Pro-Vice-Chancellors Prof. Fok Tai-fai, Prof. Fanny Cheung, Prof. Isabella Poon, Prof. Dennis Ng and Mr. Eric Ng, Associate Vice-President Prof. Wong Suk-ying, Prof. Chan Wai-yee (Master of C.W. Chu College and Director of School of Biomedical Sciences) and Ms. Wing Wong, Director of Academic Links (China).
Mr. Chen together with the delegates learned about the University's latest developments during the meeting and paid a visit to the Institute of Space and Earth Information Science and relevant research facilities in CUHK. During his stay, Mr. Chen also officiated and presented prizes at the Ceremony of Ministry of Education Higher Education Outstanding Scientific Research Output Awards (please see the Section of "Academic Exchange Activities" of this issue) held on CUHK campus.
The State Ministry of Education (MOE) has been supporting CUHK and Hong Kong tertiary institutions to launch a wide range of collaboration projects with mainland China. CUHK has currently three MOE Key Laboratories and the only two extension units of the Humanities and Social Sciences Key Research Base in Hong Kong. MOE launched the Ten Thousand Student Interflow Programme in 2013 to encourage Hong Kong students to conduct experiential learning activities on the mainland. Over 9,000 CUHK students and staff have been sent to mainland China since the Programme is launched.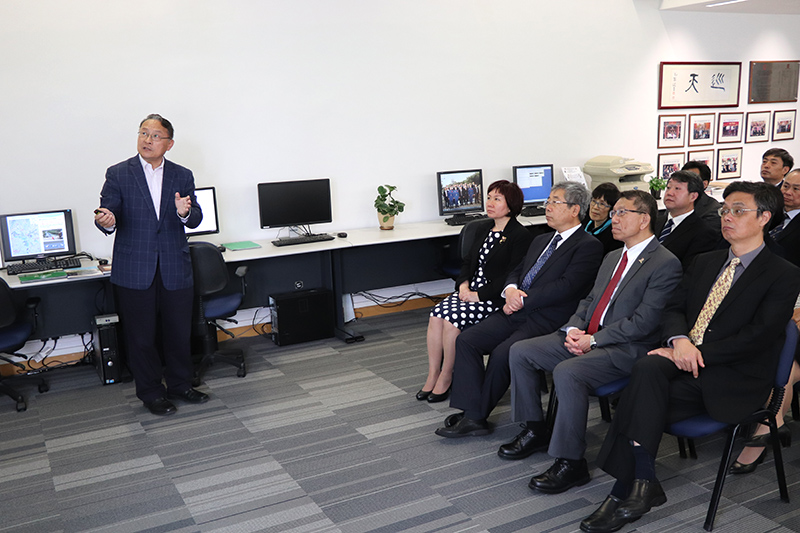 Delegates from MOE learns about the University's latest developments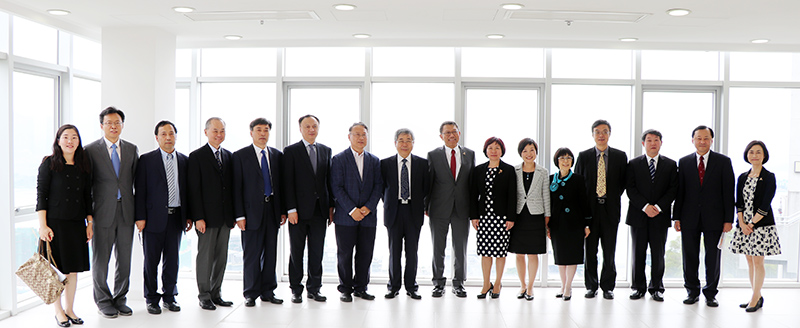 The delegation visits the Institute of Space and Earth Information Science